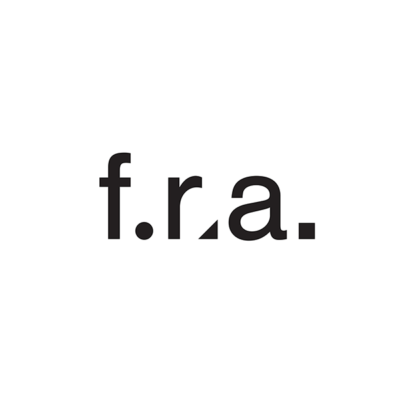 f.r.a creative has an opportunity for a mid-weight environmental graphic designer to join its team in Shrewsbury, UK.
f.r.a. is a different kind of proposition. We provide niche design services including wayfinding, placemaking and brand design. We're known for an empathetic and unconventional approach to design that gets under the skin of a project but also for delivering real-world results. Our clients love us because we unlock the full potential of their projects and we're a fun agency to work with and for. We're based in Shropshire and service clients around the world.
We are growing. We're looking for the right person to bring their creative spark to the group. For a small team, we are a diverse bunch with passports from around the world and a wide range of backgrounds, experience and lifestyles.
Here's a bulleted list because every job description has one:
an understanding of physical environments, architecture and interior design. You don't have to be an architect but you know how to read a plan and get working at scales bigger than paper/screens. A love of materials, lighting and space will go a long way
an excellent sense of graphic design with a strong portfolio in typography, illustration and layout
no really, you love type. You have a picture of Miedinger by your bed and you won't shop at places with poorly kerned signs
can think conceptually about design. You can research and want to find out more about places
you understand brand but can bend the rules enough to apply it in new ways
you are curious
four to eight years' experience. No more no less.
As a mid-weight position you'd be working with the creative director and the wider team to deliver projects. This includes early research and conceptual design and follows all the way through delivery. You'll see your projects in the real world. You will already have a keen sense of graphic design, we will help train you on the specifics of wayfinding and environments. You should already have a strong understanding of Illustrator, InDesign and Photoshop. Skills in SketchUp, CAD, other 3D applications, web or motion graphics are a bonus. You will be client facing but with the support of the team.
We'd welcome you to join our team in Shrewsbury. It's lovely here with fresh air, a big studio and room to grow, but we get out a lot! We have flexible working patterns and are also open to remote working for the right candidate.  Whatever the working situation, you will need to be an excellent communicator and able to take direction and manage a project both face-to-face and through agile channels.
Salary dependant on experience. Our flexible studio culture focuses us on enjoying our lives as well as what we do. Well-being is very important to us and the team enjoy a range of initiatives and to promote this. We share in the company's success through bonuses. There is plenty of room for growth, it's yours for the making.
Submit your applications via the apply for job button below with CV and link to portfolio.
Salary: Undisclosed
Applications have closed.