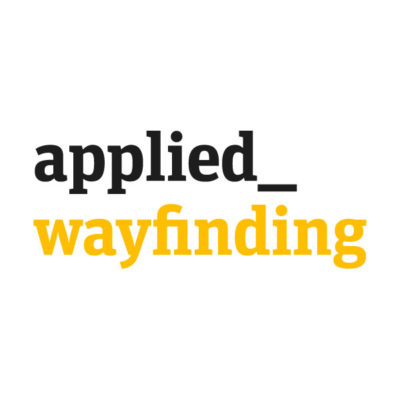 Applied Wayfinding has an opportunity for a mid-level/senior product designer to join its team in London.
Applied Wayfinding is looking for a talented full-time product designer with a passion for wayfinding and helping people navigate their environments. Please note that this role is a physical product/industrial design position, and not UX/UI related.
Role
You will be working alongside Applied's Wayfinding, strategy and information design teams to deliver interior and exterior wayfinding systems from concept to design intent level. The role is centred around the design of signage objects and placemaking elements. You will be tasked with design detailing with respect to scale, integration with surroundings, colour, materials, finish and production method, especially with respect to environmental considerations.
You will be working across multiple projects at all times, but with the time and space to ideate and craft beautiful and functional product design solutions. You will be the core product designer on your project teams, supported by Applied's product design lead.
Responsibilities
Project work and collaboration
Applied's product designers quickly ideate, visualise and iterate their design concepts, and craft those concepts into refined detailed designs, finally delivering flawless technical design intent drawings. You will be expected to be involved at every stage of the product design process.
Applied appreciate a collaborative approach across teams and projects. You will, therefore, be on-hand to provide expert product-based knowledge and opinion on projects you are not necessarily involved with on a day-to-day basis. Additionally, you will collaborate with external project teams, be those Applied's project partners or our client's employed consultants.
Applied believes in strong opinions, loosely held. You will be confident in asserting your opinion but respond well to constructive feedback or guidance in all your interactions.
Client-facing communication
You are confident articulating design solutions and will liaise directly with clients through written and verbal communication. You will be preparing and delivering product design aspects of client presentations alongside your colleagues.
Sign manufacturer liaison
You will work directly with both speculative and appointed signage manufacturers at all stages of the design process.
Research and innovation
You will maintain an awareness of newly installed wayfinding work by others. You will stay informed of current trends in the signage/wayfinding/place branding sector, as well as the wider design world.
We believe in delivering design with environmental impact considered a given. You will seek to understand how the company's design work can make zero, or positive environmental impact at all stages of the lifecycle; including material extraction, production, installation, use, updating, removal and disposal.
Experience:
a bachelors and/or a masters level degree in product and/or industrial design
a minimum of three-five years of professional product/industrial design working experience
experience in the sign design industry is preferred, but not required
Skills:
you will be highly organised with good time management skills
you have an expert eye for detail and share our motivation to deliver designs of the highest quality
a strong understanding of material selection and an awareness of industry standards are required
clear verbal and written communication with colleagues and clients
Adobe Creative Suite – especially InDesign, Photoshop and Illustrator
3D CAD software – ideally Vectorworks
3D visualisation/rendering software – ideally KeyShot
working knowledge highly preferable: Google G Suite applications including Docs, Sheets and Slides
How to apply
If you feel you have all of the skills and experience required, then we would love to hear from you.
To apply, please submit your CV, portfolio, cover note, indication and current availability using the 'apply' link below.
Due to the high volume of applications, we are unable to notify unsuccessful applicants. If you have not been notified of the outcome of your application within three weeks, please assume you have been unsuccessful on this occasion.
Applications have closed.