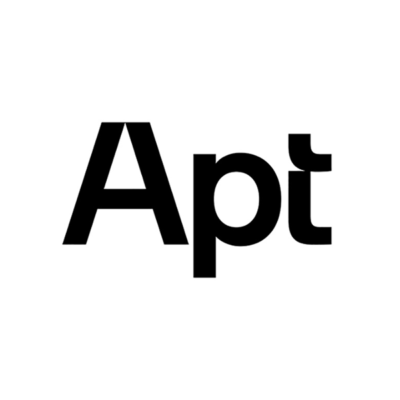 Apt is seeking a new business developer to join its team in London.
About us
Apt is an architectural practice underpinned by a creative and collaborative approach. We create architecture that inspires through great design, innovation and craftsmanship.
We work as a collective in a transparent and respectful way. We do not have a house style, we look at every project afresh; creating desirable places to live and work that are richly detailed and diverse in character. Celebrating the culture, customs and heritage of their setting, reinforcing a sense of identity and place.
From our studio in Clerkenwell, the heart of London's design district, we work across multiple sectors including housing, commercial, heritage, arts and community projects of all shapes and sizes across London and the UK.
About the role
The business developer is responsible for providing business development support to Apt directors in their business activities and in the pursuit of new business opportunities.
The BD will use strong organisational and communication skills to support the team in maintaining current and, developing new client relationships. You will support the generation of new business by maintaining client relationships across all target sectors.
This position reports directly to the Executive Directors and provides PA related support directly related to new business development initiatives.
Your work/duties (inclusive but not limited to):
organise introductions to new clients, consultants, and contractors within key markets
ensure business development diary bookings are undertaken to agreed timescales, book and amend as required
track new business meetings and ensure that follow up actions are carried out, utilise the enquiries tracker and studio CRM system
along with the marketing department research potential events and consider appropriate activities to engage clients
organise travel, itineraries, and diaries for related to BD activities
compile background research into potential clients prior to meetings
prepare and assemble tailored portfolios and documents/ collateral required for business meetings
organise printing, scanning, and binding of documents, book external printing. Circulate digital and hard copy documents to clients as requested
liaise with relevant teams and individuals for production of portfolio documents
keep business leads 'warm' through regular approaches to prospective and previous clients. Track each contact, utilise the enquiries tracker and studio CRM system
regular monitoring of press and articles, make links between projects, experiences, and opportunities
attend management meetings related to new business
manage a central book of contacts using the practice's CRM system
write and compile bid documents
attend events (NLA membership) and be an ambassador for the studio
support the management of the studio
organise business contact with prospective and previous clients
generate market analysis and insights for new business
collate regular communication with clients
consult with the management team on all strategic matters to ensure an appropriate, consistent, and coordinated approach
be approachable and well organised, offer clear guidance to the management team and work effectively with the studio director, marketing and communications manager and the external support service providers
You will:
have excellent organisatonal skills, communication skills, project management skills and interpersonal skills
be pro-active and take the initiative, be a team player, be calm and professional at all time
be thorough and precise, always maintain high quality output, anticipate change, manage priorities and deadlines impeccably
This position is only available to applicants based in the United Kingdom