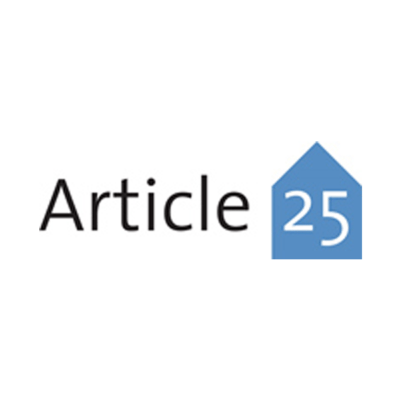 Article 25 is looking for a senior project architect to join its team in London.
Reporting to: director of projects
Responsible for: leadership support to the design team in developing projects from inception through design to completion and evaluation
Location: London
Salary: £45,000 p.a.
Contract length: permanent
Article 25's vision is of a world where all communities have access to better housing, safe school buildings and effective clinics and hospitals. Building capacity is just as important to us as the buildings themselves. We provide the skills and knowledge needed to make our projects as impactful as possible, working with local partners and directly with the community. We are driven by Article 25 of United Nation's Universal Declaration of Human Rights, which states that everyone has the right to adequate and dignified shelter.
Article 25 has ambitious plans to scale up the impact of its work by expanding its design and construction management programmes across the world. We have a strong track record of delivering social impact that is sensitive to the needs of vulnerable communities. We have just as strong a track record of successfully delivering design and build projects in resource-poor, challenging contexts. In this new leadership role, you will be working alongside a dedicated high-performing team of project architects and architectural assistants and working closely with our director of projects, focussed on delivering design and project management leadership to key large-scale existing projects (including a 20 year project at the Yangon General Hospital, Myanmar), as well as driving forward our business development, finding new partners and larger-scale programme opportunities internationally.
Main purpose of the post
This role requires a motivated self-starter who is confident to work proactively and deliver results, drawing from your substantial architectural experience.
to deliver against our existing project commitments on the Yangon General Hospital project, leading the project design team based in Yangon, and liaising with all key stakeholders in the UK and in Myanmar, to deliver successful project outcomes, on time and to budget
to work on other projects as project architect as necessary
to maximise opportunities for new projects, through effective business development, with new and existing project partners and with our charity's principal aims of increased access to education, healthcare and safe homes in developing countries worldwide
to communicate clearly and succinctly with non-technical decision-makers to support effective decision making on our projects
Principal accountabilities
Design:
in close liaison with our director of projects, lead the development of projects from inception through design to completion and evaluation
provide design leadership with essential technical, environmental, cultural and construction knowledge appropriate to the field of international development and the specifics of each site
Line management:
manage the Yangon General Hospital project team, and associated architectural assistants
Business development:
develop our dialogue with new prospective clients and partners in the different fields of education, healthcare, and housing, to explore new partnerships and ultimately secure new contracts for the charity
demonstrate the value of architecture and engineering in these different and complex fields of social development, linking Article 25's work back to the values of our clients and partners
help us to reach our ambitions for full architectural cost recovery, by effectively integrating cost recovery into construction budgets, in order to create greater financial sustainability for the charity
Professional leadership:
provide contract administration guidance to live projects
provide advice on procurement of construction
communicate these professional standards and our technical expertise to lay clients and partners, in an easy to understand way, in order to effectively influence decision-making
Person specification
Experience:
over 10 years' experience working in an architectural practice or multidisciplinary service, within an architectural department (essential)
five-plus years' experience in international development or other socially progressive environments (some experience is essential)
demonstrated management experience in complex environments (essential)
professional accreditation in architecture (essential)
proven experience in international design, staff organisation and business development (desirable)
proven site management experience (essential)
proven experience in planning, coordinating activities, resource allocation and finances of projects (desirable)
passion for international development and humanitarian sectors demonstrated in life or work (essential)
Skills and personal qualities:
possess excellent written and verbal communication skills including presentation skills, in an international setting (essential)
excellent interpersonal skills (essential)
ability to work in a complex, intellectually rigorous environment whilst remaining focused on delivering results (essential)
commercial acumen and business development skills (essential)
able to travel to any location including fragile states with confidence (essential)
high flexibility around working hours, the role often requires work in time zones on opposite sides of the earth (essential)
work and living experience in different cultural environments (desirable)
a high degree of self-reliance and resilience (essential)
This job description is not contractual and is liable to change over time.
Applications have closed.