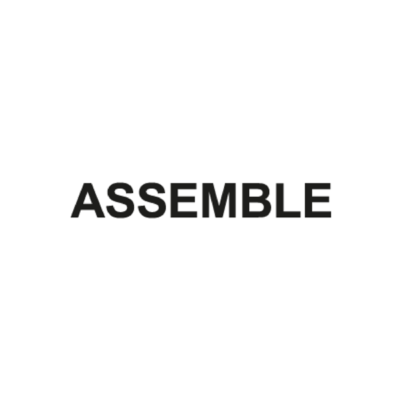 Assemble is hiring a temporary maintenance manager to join its team in London.
Temporary maintenance manager 
We are looking for a maintenance manager to join our friendly design practice with an immediate start on a three month full time contract (with possibility to extend to six months). The role focuses on the ongoing management and administration of Assemble's workspaces, split across two sites in South London.
We cook lunch for each other every day (all dietary requirements catered for) and have office wide design reviews once a week. At Assemble, you will also have access to the Sugarhouse Studios workshop facilities, bench space and secure bicycle parking.
We are an equal opportunity employer and value diversity in our practice. We do not discriminate on the basis of race, religion, colour, national origin, gender, sexual orientation, age, marital status or disability status. We welcome applications from people requiring flexible working arrangements and from anyone with any professional or educational background. If you have any questions about our working environment please get in touch.
About Assemble
Assemble are an award winning art, design and architecture practice based in London. Our work focuses on using design as a tool to improve social and cultural life in the built environment. Assemble were the recipients of the 2015 Turner Prize.
Our work covers activities including design, brief development, organising events and hands-on construction, all of which is underpinned by the belief that broader involvement creates richer results. Current projects include a new city farm in Barnet, London; a new social centre in Spitalfields, London; a material laboratory and workspace in the south of France; and a mixed-use development in Liverpool.
In 2016 we moved our studios and workshop to Bermondsey. It is a large studios building called Sugarhouse Studios which we designed and built. We manage the ongoing leasing of the building and have around 45 tenants. Our tenants are a diverse range of skilled makers and artists including carpenters, stonemasons, printmakers, textile designers and musicians. At Sugarhouse Studios, we have a wood workshop, metal workshop and ceramics workshop, all managed by the tenants.
Please visit our website at www.assemblestudio.co.uk to find out more about our work. Click here to see some articles about us and our work: the Guardian and Dezeen.
Contract type: three-month full-time contract with possibility to extend to 12 months
Hours: Monday – Friday, 9.30am – 5pm with an hour for lunch. Part time will also be considered.
Salary: approx. £30k – 35k pro rata depending on experience
Annual leave: 28 days holiday entitlement, including bank holidays. Our office is closed between 25th – 31st December inclusive and this does not count towards your holiday allowance
Location: the nature of the role means that you may be asked to work across the different Assemble workspace sites, but it is expected that you main place of work will be at Assemble's office, Sugarhouse Studios, 19 Collett Road, London SE16 4DJ
Applications: apply by clicking on and completing this form by 5pm on Friday 16th December 2022.
The information you supply on the application form is kept securely and will remain confidential. We will not retain this or any other personal information beyond the duration of the application process.
Materials: please submit your CV on one side of A4 with a short covering letter. Please note we will only accept digital applications.
Start date: we are looking for a start date at the beginning of 2023 with interviews being held in early January.
The role
Reporting to assemble partners you will be responsible for overseeing the smooth running of Assemble's workspaces. Working with this team and other staff, your role will cover the ongoing management and administration of Sugarhouse Studios, our main premises, where Assemble's design office is based; and Dome View Yard in North Greenwich which supplies spaces for music production and larger scale fabrication.
Experience with general maintenance and carpentry is essential. Full driving license and knowledge of plumbing and electrical work would be desirable but not necessary.
Statutory maintenance duties:
ownership and responsibility for updating and adhering to Calendar tasks such as weekly fire alarm tests, monthly emergency lighting checks and water temperature testing across our sites, fire risk assessments. Additional training provided if necessary
ensuring all statutory requirements across the workspaces are fulfilled
liaising with landlords to achieve the above
ensuring flammable liquids are stored correctly
daily caretaking of workspaces throughout the week; clearing hazards
General maintenance duties:
routine and ad-hoc maintenance and repairs such as repairing doors and unblocking drains
arrange and manage contractors carrying out specialist work such as plumbers, electricians, fire alarm engineers, fire extinguisher engineers, roller shutter repairers etc, ensuring the work is done quickly, to a high standard and for a reasonable price
keeping track of maintenance in log book
replenishing consumables such as toilet paper and towels
ensuring internet is working and finding ways to resolve if not
keep buildings clean and tidy and ensure escape routes are kept clear and functional
Building and facilities management:
managing responsible areas of health and safety plan
taking appropriate action to resolve any health and safety issues
attend weekly Workspace meetings and input in to maintenance issues.
assist the cleaner in keeping our sites topped up with consumables such as toilet paper and soap
Assemble design support:
work with Archivist to manage and maintain Assemble's materials and artwork storage
look after Assemble's workshop areas (main workshop and model-making) keeping them tidy, looking after tools and equipment and ordering consumables)
assist with the production of work and models in the workshop when required
work on improvement projects to Assemble's office and workshop or our Workspace buildings
work closely with Workspace team, design's archivist and others to coordinate the summer move
Salary: £30,000 - £39,999
Applications have closed.