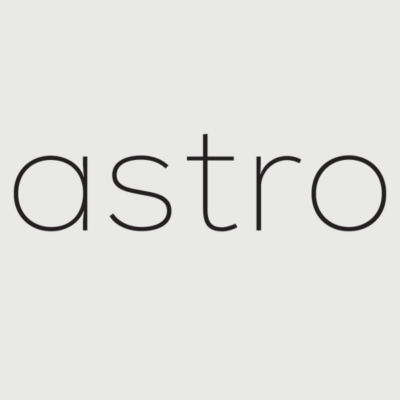 Essex, UK
Mid-level graphic designer

Astro Lighting has an opportunity for a mid-level graphic designer to join its office based in Harlow, UK.
Do you love good design? If so, how does working for a creative, dynamic and successful company sound to you? As a result of continued expansion, we are currently looking for a mid-level graphic designer to join our team.
Founders John Fearon and James Bassant came together in 1997 to create Astro with a shared commitment to British lighting design and a passion for quality and precision. Now a leading designer and producer of contemporary lighting, Astro supplies predominantly architects, designers and specifiers to over 70 countries worldwide, with newly established Asian and US subsidiaries.
Astro's creative ethos has remained consistent throughout – that good design demands simplicity. Its business ethos is similarly straightforward, being based on a passion for quality which goes far beyond technical excellence and demands the highest possible standards of customer service.
You'll be working within our growing graphics team who are at the creative heart of Astro. You should have an eagle eye for detail, passion for innovation and great work ethic. If you have three+ years' experience then we want to hear from you.
We're looking for someone with a strong portfolio demonstrating key skills across brand identity, typography and layout, as well as have a knowledge of current digital standards and trends as well as popular and street culture. You will be a wiz at Adobe CC including Photoshop, Illustrator and InDesign. Any experience creating animated content will be a bonus.
This is a full-time permanent position offering a competitive salary based on experience.
Skills and responsibilities
– ideally two-three years' experience and a graphic design degree or equivalent
– strong knowledge of Adobe Creative suite – Photoshop, InDesign, Illustrator
– a range of print and digital projects
– an understanding of the print production process
– ability to follow brand guidelines, understand corporate brand standards whilst pushing boundaries
– excellent organisation and time management skills
– ability to work to tight deadlines and be a team player
– ability to offer ideas and input towards the creative process
– close attention to detail, commitment to accuracy and quality of presentation proactive and take initiative to add creativity to consultation projects/events
– energetic and friendly, willing to engage with people
– Proven strength throughout all stages of projects, from inception to implementation
– the ability to look at problems differently
– the interest and eye for detail to take concepts through into implementation
– the ability to see digital and print as equal parts of a project
– you are not precious, you embrace good ideas, wherever they come from.
– you also know your typography and layout and you enjoy tweaking the finer details until they're right.
Along with the above skills you will be expected to muck-in with the day-to-day tasks required of an in-house design team – packaging artwork, technical data sheets, interactive forms and other stationary, answering the phone, making tea and generally helping out wherever it's needed. You're a gifted designer, a committed team mate and you're fun, 
but you don't need to be a comedian.
Please apply by sending your CV, portfolio and a covering note to Donna Howard, marketing director at dhoward@astrolighting.com.
Applications have closed.