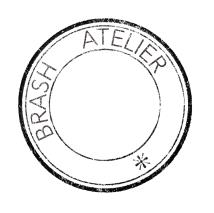 Brash Atelier is hiring an interior designer to join its team in Hong Kong.
Brash Atelier is a young Hong Kong based architecture practice established in 2017. We are interested in engaging directly with the city, making relevant work that is not separate from its immediate culture and context. We believe that a successful project is borne out of strong dialogue with the client and project team throughout the design and construction process.
We are now looking to expand our team with talented and well rounded individuals that are capable of self management. Ability to take responsibility for a project from concept to completion is expected of candidates for the role of interior designer.
Key responsibilities:
you will be expected to participate in concept design, developing design directions at the early stages of projects. Including developing material and image boards, sketching, photomontages
you will be responsible for developing concept designs into detailed working drawing packages
you will be expected to attend site visits, delegate meetings
you will be required to followup with material and FF&E suppliers
you will expected to work autonomously, and be able to anticipate and communicate tasks to your wider team
you will be expected to multitask, and be able to set and meet deadlines
you will be expected to report the status of particular tasks to your director
motivation, enthusiasm, and a willingness to listen and learn are highly preferred
Knowledge and experience:
BA in interior design or related field
four plus years' experience is preferred
experienced in AutoCAD/SketchUp is essential.
strong command of written and spoken English
ability to handle construction drawing packages is essential
strong design ability and presentation skills are preferred
experience in high-end residential, and F&B projects is desirable
able to work under pressure on fast paced design projects is helpful
available immediately is highly preferred
How to apply
Please submit your CV and portfolio to us. Your application should demonstrate your suitability to the position.
Suitable candidates will then be contacted invited to an interview within the next two weeks.
£25,000 - £29,999
Applications have closed.