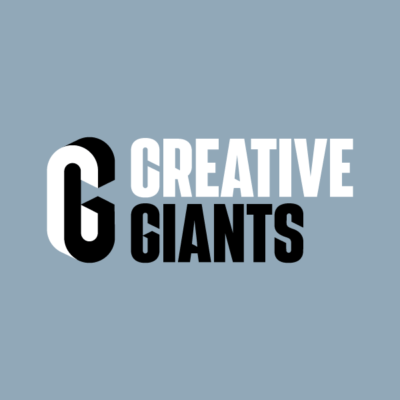 Creative Giants is hiring freelance mid-level to senior producers in Brighton and London.
Creative Giants believe that art has the power to effect change, inspire, stimulate and promote new dialogue. We bring this value to all our projects. We work with artists, institutions, non-profit organisations, event teams, festivals, brands and agencies alike. All of whom are creative giants in their own right and our relationship is informed by our collaborative approach to work.
Due to an increased workload we are looking to expand our small team. Adding more freelance resource to our company black book will allow us to progress with a number of successful bids for local authority public realm initiatives and continue to create boundary-breaking, bespoke creative interventions for our broad range of private clients.
We are inviting senior producers to share their portfolios with us to be added to our contact list so they may be called upon to support us with work in public art strategy, wayfinding, placemaking and outdoor art commissioning.
Creative Giants see the public realm as an opportunity to showcase highly innovative and creative ideas. Our core values and social responsibility as curators is to empower the audience and the artist to make sure we bring about positive long term change and inspiration for local communities.
As an agency we are brimming full of ideas and are keen to connect with talented, passionate and enthusiastic designers to help us achieve our ongoing company goals.
The ideal candidates will:
have an existing understanding of public realm and urban redevelopment and be able to translate this knowledge in a highly creative environment
have been working in a similar role/s for at least three years
have strong financial admin skills (such as drafting and managing six figure project budgets, tracking resource, equipment and material estimates, quotes and costs)
be adept at dealing with client and stakeholder teams (which can often involve complex relationships)
be thorough, well-organised and have strong research and analytical skills
be able to see the bigger picture for Creative Giants and the client, as well as able to focus on highly detailed aspects of complex projects
have basic design skills to prepare their own visual presentations using company templates
However we do appreciate that producers often have very specialised skills and we welcome applications from anyone who feels they have something to bring to the table that is not directly referenced above.
Within the existing company framework the two company directors are very hands on in all aspects of the business. Design work for projects is undertaken by a core pool of trusted freelancers, as well as by the design director.
Project producers are responsible for:
development and delivery of all urban development projects
attend online and in person client meetings with managing director and design director
provide action points from meetings to directors, project managers and other relevant members of Creative Giants team
develop relationships with project stakeholders and ensure they receive requested reports and information in a timely fashion
draft, edit and update written reports and presentations, alongside managing director and design director
track project progress ensuring that individual project managers are keeping to brief and to deadlines
undertake project administration such as issuing Statement of Work, obtaining PO numbers, checking monthly invoicing requirements
monitor project finances and freelance resources
coordinate development of internal urban development concepts
carry out research and development that will contribute to management of existing contracts and new business
assist with bid proposals and new business presentations
Location
While some work can be undertaken from home we are keen to have regular face to face time with our freelancers at our office in Brighton and our shared office space in London.
To apply
Please submit your CV and any supporting links using the 'apply' link below.
Unfortunately, we cannot guarantee that we will be able to respond to all applications.
Applications have closed.