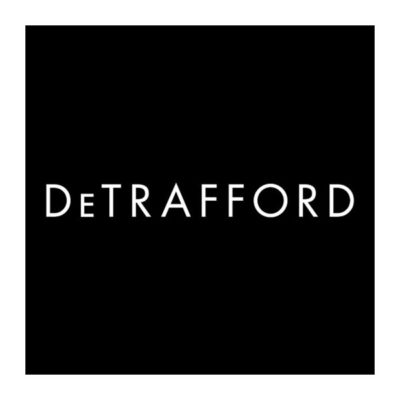 DeTrafford is hiring an interior designer to join its Cheshire-based studio.
Interior designer with commercial, residential and landscape experience
DeTrafford is an award-winning property developer and investor, renowned for creating bespoke residential developments based on a unique approach to design. Due to the expansion of our portfolio we are recruiting for a middleweight interior designer to join us.
As part of the interior design team and reporting to the senior design manager, the successful candidate will play a key emerging role in the design life cycle of each construction project. This predominately focuses on interiors; however, you will be required to work with team members to ensure the commercial aspects of our developments are designed in accordance with our brand standards. As a result, we are looking for someone with commercial design experience.
The process must be completed in a timely and efficient manner and to excellent quality standards. You will be required to meet functional and aesthetical goals, produce sketches where required, coordinate with the project managers, maintain relationships with existing suppliers and grow our supplier base internationally.
Key tasks and responsibilities:
produce interior concepts through to specifications for all internal residential spaces, including the commercial elements and present each stage to the chief officer through various presentation techniques
work with the team to design and oversee all aesthetical decisions, ensuring our product is consistent and deliverable within our vision
select design strategies and colour palettes to create cohesive and aesthetically pleasing environments
enhance and improve the interior spaces' and commercial spaces' functionality by modifying architectural elements
read and interpret blueprints, produce sketches, drawings, and floor plans to illustrate concepts and finished projects using computer-aided design programs (CAD) and hand-drawing skills
create idea boards to communicate design concepts to DeTrafford
oversee the selection of materials, negotiate prices and challenge where necessary, offering alternative solutions to suit the budget
manage project budgets and report monthly to senior design manager
perform research and maintain a working knowledge of trends and new developments in the interior design and architecture industries
adhere to national and local building/safety codes with every design element
maintain relationships with various external colleagues and vendors, including architects, project managers, suppliers, contractors and installers
work closely with the design coordinator to produce computer-generated images, ensuring we capture the essence of the build and options available to buyers
work closely with the FF&E design manager to produce furniture packages available to buyers
design, oversee and arrange furnishings, artwork, and décor for show homes/photoshoots
assess and meet DeTrafford's requirements and desires through regular meetings and conferences with the project teams
Skills and qualifications:
degree in interior design or similar
minimum five years' industry experience
Revit experience desired
CAD or equivalent design software
attention to detail, spatial relativity and creativity
multitasking, problem-solving, decision-making and working to tight deadlines if necessary
research, budgets, negotiation skills
teamwork, interpersonal skills, written and verbal communication at all levels
An attractive renumeration package will be available to the successful candidate.
Please submit applications using the 'apply' link below.
Applications have closed.