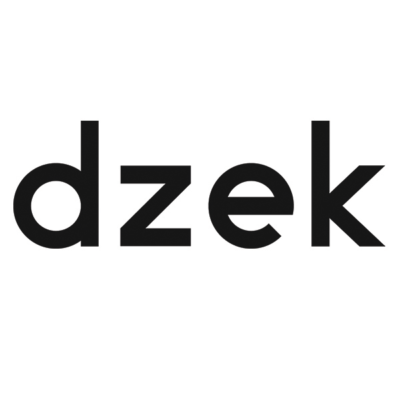 London, UK
Sales and business development specialist
at Dzek
Dzek is seeking a sales and business development specialist to join its team in London.
Dzek creates original architectural products under slow design principles in collaboration with designers such as Formafantasma and Max Lamb. We are globally recognised by architects and designers for taking a critical approach to resources, local cultures and design systems that yield unique material outcomes. This approach attracts a range of clients who not only use our products but also seek our guidance in developing bespoke, project specific materials guided by the same rigorous criteria.
We are recruiting a full time sales and business development specialist to join our  London-based operation. The ideal candidate will have previous sales and business development experience with an established network within the architectural surfaces and/or product design marketplace. They should have a spohisticated understanding of the market enhanced by a strong interest in design and architecture. The candidate should be characteristically hands-on, flexible and reliable with the ability to multi-task and prioritise a varied workload. Excellent communication and organisational skills are essential. We have several new products in the 2022/23 pipeline with launches scheduled in October and April.
Responsibilities include:
development of residential, contract and B2B sales, worldwide
build and manage a network of architects, contractors and potential retailers
initial point of contact for all enquiries with follow-through from quotation to order
log strategic sales information in the CMS
manage all sales pipelines through the CMS
liaise with the operations manager on all sales and fulfilment
accurately produce sales quotes and invoices, apply pricing and discount rules, calculate gross margins
execute market analysis, sales strategy and targets.
proactive account management in order to facilitate client orders and contribute to the achievement of company sales targets
provide exemplary, flexible customer service
prepare and present audience-specific presentations
travel for business development, trade fairs and exhibitions
database – maintaining the contact database, organising mail-outs for events and invitations
fluency in the Dzek design philosophy and product lines in order to successfully serve as a brand ambassador
Essential skills:
fluent English both spoken and written as well as polite, articulate, reassuring manner
ability to work independently and reliably, with strong multi-tasking, organisational, communication and customer-relation skills without constant recourse to line manager for support and guidance
experience with architectural product specifiers
experience dealing directly with customers
interest in design, architecture and art
tenacious attitude to problem-solving
comfortable with/have prior knowledge of working with CRM and cloud-based accounting software such as Xero
confident working on Mac OS and demonstrate a good knowledge of Google Apps
financially literate in order to accurately forecast, produce quotes and invoices, apply pricing and discount rules, calculate gross margins
previous sales experience within a similar sector
valid UK work permit
Additional information
The position is salary based with quarterly sales commissions. Compensation is commensurate with experience.
Start date: ASAP
Please submit a cover letter and CV by clicking here. Applications without a cover letter will not be considered.
Applications have closed.