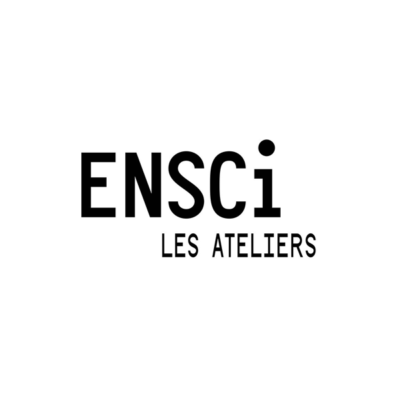 ENSCI-Les Ateliers is seeking a digital atelier lead/instructor to join its team in Paris, France.
Le context.
The École nationale supérieure de création industrial, ENSCI-Les Ateliers, is the first French higher education institution dedicated entirely to design. Global rankings place the school amongst the most prestigious internationally in the field. The pedagogical model is project-based and stresses collaboration with industrial, institutional, and academic partners.
ENSCI offers selective integrated Master's programs in Industrial or Textile Design. The school also proposes continuing education and research programs, including a doctoral degree in partnership with the École nationale supérieure, ENS Paris-Saclay.
Students at ENSCI work hands-on in the ateliers which are equipped with the appropriate material. The school has model-building, CAD / CAM, wood, and metal workshops. The school also offers audiovisual studios including photography, video, and sound. Finally, the school offers a material and processes resource center. The digital resource atelier was created within this ecosystem, and it proposes assistance in the prototyping of interfaces, connected objects, and interactive objects and experiences.
In the context of a replacement, ENSCI is currently recruiting an instructor to serve as lead for this digital resource atelier. The successful candidate will animate this space and accompany students in testing the feasibility of their projects and hypotheses, as well as prototyping. The work deals essentially with electronic elements and microcontrollers, but also incorporates other innovative technologies and experimentation.
The successful candidate will animate and develop the activity of the atelier (30%); offer technical and conceptual expertise to the students developing projects with digital elements (30%); propose practical course offerings adapted to the global objectives of each training program, while adopting a pedagogical approach that encourages student autonomy and the appropriate usage of digital elements within design practices (30%). Finally, the Digital Atelier Lead participates more globally in the educational project of the school (10%).
Beyond the operational missions cited above, the successful candidate should be able to articulate a strategic vision of digital design practices within the school and its programs.
Qualifications:
Engineer in computational technologies or code, Electronics Engineer, or IT Developer at the Master's Degree Level. The successful candidate ideally has 10+ years of professional practice in the creation and development of electronic devices in project-based, collaborative environments. Experience in teaching, tutoring or mentoring. Experience in research programs or environments appreciated.
Required skills:
Expertise in the creation and development of electronic devices including connected objects, programming microcontrollers, on PC, Macintosh and Linux.

Knowledge of contemporary programming languages ​​(Java, Javascript, C ++, Swift, Php …) and of data treatment technology (Arduino, Raspberry PI, Teensy …).

Connected object prototyping experience.

Knowledge of the constraints of industrial production of such devices.

Desire to work with creative fields in general, above all industrial design (shape, scale, materials).

Possesses a culture of innovation (objects, services, spaces, materials, interaction, processes …).

Good understanding of the stakes, logic, and limits of design project management.

Capacity to adapt to a disparate panel of student profiles and needs.

Pratique pédagogique innovante.

Curiosity, ouverture d'esprit, appetite pour l'expérimentation et les pratiques basées sur la recherche.

Facilité à créer une dynamique de groupe positive avec les étudiants et autres professeurs dans des environnements transversaux.

Compétences en gestion du temps et des priorités.

Maîtrise de l'anglais parlé et connaissance des termes techniques dans le domaine numérique afin de travailler avec des étudiants et des professeurs étrangers en visite.
Conditions d'emploi:
Post permanently à temps partiel: 3 jours par semaine minimum

Date de début du 2 janvier 2020, ideal
Salaire annuel selon expérience, entre 42 et 47 K € brut (salaire indicatif à temps plein).
Autres avantages: assurance maladie complémentaire, tickets restaurant, tarifs réduits et accès privilégié aux événements culturels, etc.
Application procedure:
Candidatures must include a resume and a cover letter. They should be sent electronically to rh@ensci.com or by mail to the following address: ENSCI – Les Ateliers, Pôle Ressources Humaines, 48 ​​rue Saint Sabin – 75011 Paris. Applications must be received by November 30, 2020 at latest.
The recruitment process will be led by the Human Resources Department in collaboration with the Manager of the Resource Ateliers to whom this position will report.
You must sign in to apply for this position. If you don't have a Dezeen Jobs jobseeker account, create one here.