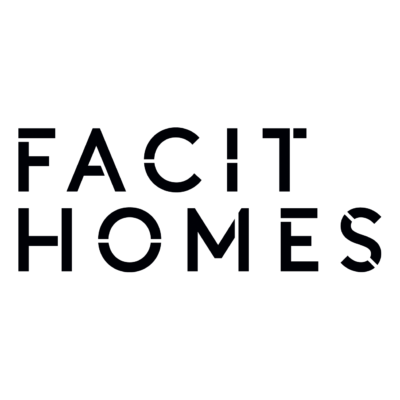 Facit Homes is seeking a site coordinator to join its team in London.
Facit Homes is the UK's leading custom home manufacturer and is at the forefront of digital design, digital fabrication and BIM for construction.
We are looking for a highly organised and proactive Part 3 architect to be our eyes and ears on-site for a one-off custom build house in New Barnet, North London. Eschewing the traditional construction site we employ architecturally trained professionals to coordinate activity on-site and ensure our digital design-led approach is enacted.
Suitable for a Part 3 architect wanting to gain real site/building experience, you will be on an eleven month freelance contract with the possibility to come studio side and design homes in our London office afterwards (dependant on workload).
You will be working as part of the Facit Homes project delivery team – head of operations (office based), project architect (office based), contracts manager (office based), site coordinator (site-based), and lead carpenter (site-based), and engaging with the latest construction technology both in terms of digitally manufactured building components and digital communication tools. Collectively the team will deliver yet another high performance Facit Home, on time and on budget, direct to the end user.
The ideal candidate will be a natural problem solver and facilitator, with a keen eye for detail. No experience of making/being hands-on required, though a practical approach is desired.
Main responsibilities:
manage design information on site
assist studio team with problem solving
track and report progress
assess subcontractors' scope of works, report on omissions
inspect works in progress/completed and report
support the carpentry team and subcontractors
manage and report on deliveries
confirm dates with appointed subcontractors/suppliers
oversee completion of online timesheets for carpenters on site
organise materials/parts onsite for later use
daily progress log
weekly capture and report uploads (360 images, sign-in sheets)
feed back information for process improvements
Digital tools provided:
access to full BIM model on site for information and dimensions
augmented reality BIM tool
360 camera – for progress/data capture
printer onsite for latest drawings
laptop – for upload/ download from our server
time tracking software
online Facit Homes technical and construction wiki – for best practice
cloud-based reports and schedules (for tracking materials and trades)
online construction sequence/ programme (maintained by office)
Start date will be approximately 1 January 2021.
You will require your own means of transport to get to site (public transport available nearby).
Please submit your application by clicking the 'apply' link below with a covering letter including availability and salary expectations, and CV. We will contact suitable candidates to discuss the position in more detail.
Applications have closed.