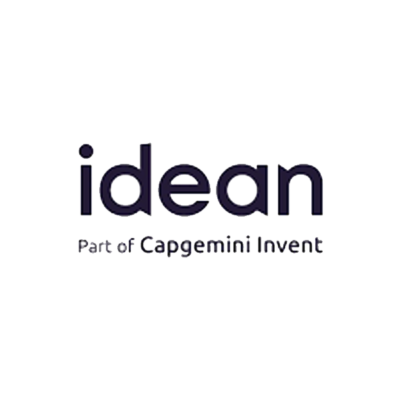 Idean is looking for senior service designers to become part of its team in London.
Idean is a global design studio, operating in the realms of design, technology and business. At about 90 here in London, we're a curious and caring mix of thinkers, makers and doers. We believe that companies need to transform their business of today while building their business of tomorrow. We create products, services and beta businesses from scratch as well as transforming things that already exist from the ground up. Idean is a part of Capgemini Invent, and some of our projects are joint efforts with our extended family and some are Idean solo teams.
Idean is a place where you can make real change at a truly enormous scale. We work with some of the biggest and most exciting businesses across all sorts of industries – so if you care about impact, this is a place where you can make it. We're helping clients launch beta businesses and challenging existing setups in telco, energy, financial services and retail, amongst other sectors. One of these new businesses, SMARTY, recently became the best-rated mobile network on Trustpilot. Not bad for a baby business.
We take on projects of many shapes and sizes. They can be short or long, depending on the scope. And they can often involve working outside of the studio and travelling to different locations, in and around London or elsewhere in the UK. If you cannot travel please speak to us about this.
Idean is a place where you'll meet lots of brainy people passionate about doing some of the best work of their lives. We also believe this can be done whilst having a laugh together and going home on time. Our team have written a bunch of articles about their work and life here at Idean over on our blog.
More about the role 
You'll be responsible for delivering against our multidisciplinary approach to designing and launching products, services and businesses – some of the bravest projects our clients have ever launched. You'll also be a part of advancing our approach, helping to grow our culture, coaching junior members of the team, and partnering with and inspiring our clients. By developing great relationships with clients you'll also be creating opportunities for new business.
Our service design team is an incredibly talented bunch of hybrids and this is something we embrace. The team consists of people with a background in design, complex digital transformation, organisation change and design, strategy and business analysis. We know that unicorns don't exist but we do like hybrid designers who span multiple areas of service design, often with particular strength in one or two of these areas, and especially those who have been a part of teams who have launched services to market, or who have worked on services in-market. We're flexible about what your experience is.
You can:
play a leading role in the delivery of complex service and product design projects
work within or lead multi-disciplinary teams to design, prototype and build multi-channel services
deliver quality design work and inspire the client towards these standards
design and facilitate research and insight programmes
facilitate or lead experiments and design sprints
create detailed user journeys and service blueprints that could scale
understand supporting systems and organisational structures
design new services from scratch
contribute to advancing Idean's design approach
collaborate with clients to successfully influence long-lasting change
take an active interest in our service design community of practice and industry and regularly share your work and ideas with the broader team and community
More about this level 
As a senior at Idean you have developed a core set of practice skills and you have the ability to define what does good look like across a number of practice approaches. You will play a hands-on role in the delivery of project activities and deliverables, e.g. workshops, presentations and feedback sessions, and your outputs will also include high-quality work for your given practice with minimal guidance and oversight. You will develop trusted client relationships and lead activities and client interactions related to your practice area. You will play a key role in maintaining the project plan and you may play the project lead role on small projects; you will be able to prioritise your work accordingly as well as identify dependencies related to your work and the broader plan, and help manage these with the team. You will have an emerging set of team management skills and this will include spotting performance issues and helping to manage these, coaching more junior members of the team, and initiating feedback activities. You will identify ways to work on your personal development and actively participate in growing and advancing your community of practice and the studio.
You have:
experience of product development, digital transformation, or customer experience design
experience of getting involved in multiple stages of the product and service design process, from initial analysis, workshops, sketches, ideas and concepts through to user research, prototyping and the final delivery of designs
experience of service design work that goes beyond the strategy and includes piloting and taking services live would be nice to have
a strong understanding of user-centred design
experience of facilitating workshops, design sprints and ideation sessions
a focus on process and proof. Testing and iterating must be an inherent part of your approach
the drive to deliver great work
the instinct to recognise when something doesn't work
the drive to proactively identify and implement improvements to the way we work
the ability and drive to engage in and encourage feedback activities
comfort reflecting on your individual performance and behaviours and, together with feedback from others, you will actively seek to continuously improve
passion about helping to create an environment where people can do great work
buckets of positivity and a 'can-do' attitude
Don't worry about being a 100% fit. That's impossible nonsense, anyway. If this sounds like an interesting opportunity to you, and you think it could work, let's chat.
What to expect from our application process
Standard stuff, really. First, we'll take a look at your application and you'll hear from us within a couple of weeks. If you look like a possible fit for the role, then we'll invite you to have a chat, in-person or on the phone. After that, there will be two interviews, perhaps with a task, depending on the role you're applying for. There are no robots screening CVs here, so we apologise if it takes a little longer than expected.
We offer
A challenging, creative and supportive working environment is important to us. We've put a lot of thought into our studio space and how we grow and support our team. Our policies on mental health and parental responsibilities, and more, are designed to work for our people. While we strive to be as inclusive and forward-thinking as humanly possible, we also know we can always do better. The point is, we're keen to talk about and accommodate any need that helps you get good work done while enjoying a quality work-life balance.
competitive salary
company pension contribution of 6%
AXA private medical insurance, which includes Stronger Minds mental health support
group income protection (50% level cover)
life assurance (x2 level-cover)
25 days of holidays, plus additional days off during some of the winter holiday season (we close between Christmas Day and New Years Day), as well as bank holidays of course
a tiered parental leave policy, which offers 12 or 18 weeks maternity full-pay and four weeks partner full-pay (dependant on your tenure)
access to our cycle to work scheme
flexible working programmes. There is no one model to fit all so feel free to talk to us about what you need
individual training budget for personal development
community of practice get-togethers
healthy snacks and drinks in the studio, plus team lunch on a Friday
all sorts of different social events, inside and outside of the studio.
Sounds good? Then apply!
Additional information
You must be legally authorised to work in the UK without restrictions. Please do not apply for more than one job or location. If you wish to be considered for more than one studio please include this in a cover letter.
We take your privacy seriously and are committed to maintaining the trust and confidence of candidates and prospective candidates who are exploring job opportunities with us. Within our London studio's talent privacy policy here you can find information on how we treat data that we collect from candidates and prospective candidates, when you apply online or when we connect in other ways, such as via email.
Please submit applications using the 'apply' link below.
Applications have closed.