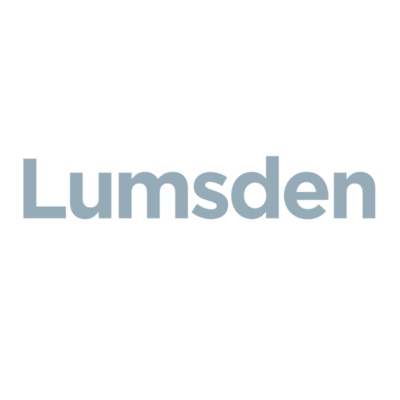 London, UK
Senior interior designer – retail

Lumsden is looking for a senior interior designer to join its team in London.
Lumsden are an award-winning, innovative design consultancy specialising in creating exceptional retail, cultural and experiential environments around the world.
Our clients include international museums, galleries and visitor destinations.
We are a small, close-knit team looking for someone with a really positive attitude who will contribute to our studio culture as well as our company.
We pride ourselves on being a collaborative and creative team working together in a dynamic, fast paced and hands on way, always striving for the best solutions for our clients.
An increasing workload has created opportunities within our team for those looking to take their creative career to the next level. You'll need to be passionate, inquisitive, excellent at problem-solving, have a strategic mind and be able to think on your feet. You will understand the latest trends, be a keen researcher and always looking to create innovate experiences.
A successful candidate will have experience designing and managing a diverse range of clients and projects to the highest standard; working with established brands and creating new ones.
Key responsibilities:
leading the creative vision alongside the creative directors

oversee multiple large and small-scale retail projects
build strong relationships with our clients, winning their trust and confidence throughout the creative process
be a professional representative of the company with the ability to present design concepts and ideas with confidence and passion
ensure the team successfully delivers projects on time, budget and to the highest standard
lead and mentor the junior team, developing their ability as designers
overseeing the operation of the studio
Knowledge and experience:
minimum of seven year's experience
experienced working on high profile, international, long term projects with multiple stakeholders
expert in space planning and concept development, with a proven track record of working on and leading projects from concept to delivery
excellent leadership and time management skills, with experience running teams of at least five people
strong multi-tasking skills; able to switch between design and project management aspects of multiple projects
proven experience producing detailed tender packages including construction drawings, schedules, specifications, costings and value engineering
exceptional attention to detail
experience using project management portals for construction and design administration, including reviews of RFIs and submittals
liaising with architects, consultants, specialists and suppliers
Skills
advanced AutoCAD, Sketch Up and Adobe Creative Suite skills essential
knowledge of BIM, Revit and VRay would be an advantage
experienced working in both Metric and Imperial measurements
excellent communication skills in English – verbal, written and visual
This is a full-time position. All candidates should be eligible to work in the UK.
Lumsden is an equal opportunities employer.
No agencies please.
Your application for the position should include the following:
curriculum vitae
a case study of a recent project that you led
examples or technical drawings that you have drawn rather than signed off
We look forward to hearing from you!