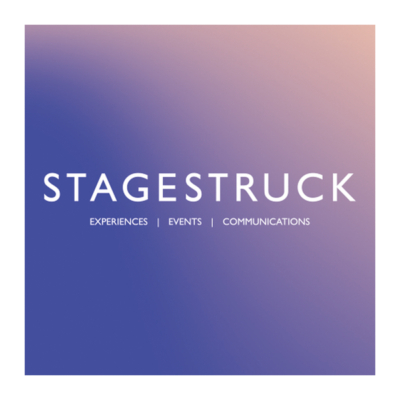 Stagestruck is looking for a junior 3D designer/visualiser to join its team in Hertfordshire, UK.
About us: Stagestruck
We're a global creative agency, who have been delivering world-class experiences, events and communications for over 38 years. We have reimagined how to engage, immerse and entertain audiences. Storytelling is at the heart of everything we do, captivating people to create memorable connections.
We have a dream list of clients that we have delivered, some of the most innovative and inspiring events in our sector. We help our clients achieve their ambitions with a particular focus on technology and sustainability
Since the pandemic the agency has achieved its most successful year to date and that has been due to our extremely talented team. We have drawn on all our knowledge, experience and in-house expertise to pivot from not only delivering live and hybrid events, but also creating engaging virtual experiences for our clients and their audiences.
What we believe in
We're passionate about our work and believe that great ideas are derived from the ambition to succeed, the willingness to tread where others might not, and the determination to challenge the status quo. We support our clients, creative partners and each other through our strategic/creative approach.
We celebrate different ideas, perspectives and backgrounds. As an equal opportunity employer, we believe in the power of a diverse and inclusive team. We are committed to building a stronger diverse and inclusive creative work environment.
The team
The creative studio at Stagestruck is full of talent from graphic designers, motion designers, 3D designers, CAD technicians and a creative director who all collaborate to deliver pioneering work for our clients.
Stagestruck also has other departments that are bursting with individual specialities and collective expertise from a digital, content, production, technical, scenic department and delivery operations. We are truly integrated, with everything under one roof.
The role
Job Type: full-time, permanent
Salary: £20,000.00-£28,000.00 per year (salary is negotiable and dependent on experience)
Key day-to-day aspects and requirements of the junior 3D designer role include:
working closely with the design and production teams to create high-end visuals for the events industry
assist the 3D Design team in modelling venues, staging, seating layouts, environments and experiential brand activations
help import 3D assets into real time rendering software (Twinmotion) and assist the 3D design team with texturing and lighting of the imported scenes
participate in creative workshops and team meetings, supported by our lead 3D designer and creative director
support and become part of the overall design development
The person:
We are looking for someone who:
has good knowledge of Photoshop and an understanding of CAD plans
has basic understanding of different building materials and manufacturing processes
experience with Twinmotion, Vectorworks and/or other CAD software is a bonus but not essential as we will provide training
is passionate about 3D design, lightning, texturing and other visual creativity
is eager to learn and grow within a creative environment
has a keen eye for detail, perfectionismc
can be agile and adapt well to change as ideas evolve
able to work on their own initiative as well as part of a team
has good personal time management skills and can work towards deadlines
experience in 3D software: SketchUp, Blender or CD4 (or other modelling software)
good skills in Photoshop (or other post processing software)
experience with Vectorworks or similar 2D drawing packages would be a bonus
able to come into the office for a minimum of 3 days per week
How we will support you
At Stagestruck our family is only ever as good as the talented people that choose to call it 'home'. We are committed to providing the support needed for people to do their best work and have fun doing it.
You will be under the guidance of our 2 in-house Senior designers, they will help support you and train you with anything that you may need to get to grips with fast passed events world.
These are some of the things Stagestruck have in place for our employees:
22 days paid holiday plus a lieu/lieu payment scheme should you be asked to work weekends and/or bank holidays
don't work on your birthday! You will receive an extra day's leave on your birthday. If it falls on a weekend, public holiday or the date isn't available to take due to work commitments. We will also contribute toward a birthday meal up to £75
lunch is provided at the head office, we have a fully stocked canteen
Christmas shut down, we usually operate a company close between Christmas and New Year
salary sacrifice schemes including Holiday Purchase, Bike Purchase and Tech Purchase schemes
discretionary bonuses
regular team and agency socials, and legendary annual summer and Christmas parties
Salary: £20,000 - £24,999
Applications have closed.