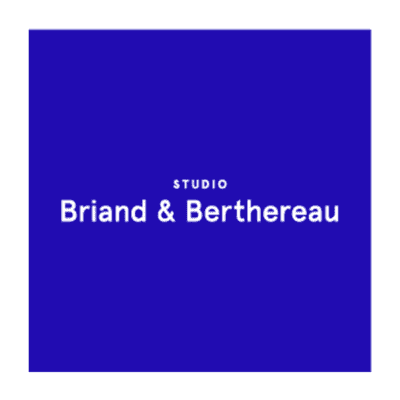 Studio Briand Berthereau is looking for an architect/interior architect to join its busy team in Paris.
Le studio Briand Berthereau recherche un Architecte d'intérieur confirmé. Plus d'informations sur le Studio Briand Berthereau sur www.briand-berthereau.com
Type de post: CDD 6 mois
Lieu : Paris (10e ) métro Louis Blanc
Salaire : selon expérience
Disponibilité : Janvier
Mission:
Chef de projet – Architecte d'intérieur ou architecte
Principales responsabilités
L'Architecte d'intérieur – Chef de projet sera spécifiquement chargé d'un projet concept pour du tertiaire créé(s) par le studio Briand Berthereau.
Il devra gérer les étapes suivantes :- La réalisation technique et modifications des documents relatifs au Projet (plans, dessins, présentation)
la participation à la mise en oeuvre du concept d'architecture intérieure et à la création de ses éléments constitutifs
la recherche et recommandation des éléments du Projet (matériaux, mobilier, luminaires…)
la gestion et respect des plannings et du budget du Projet
le suivi et le reporting du projet
la réalisation du dossier de présentation pour chacune des phases
la gestion des relations avec le Maître d'Ouvrage et l'Architecte de Réalisation
la participation aux réunions internes et externes afférentes au Projet
l'élaboration de comptes-rendus visant à l'évolution du Projet en temps réel
le travail en coordination avec l'équipe du Studio Briand Berthereau (Architectes d'intérieur, designers,graphistes 3D, responsable d'agence…) et le management d'un Architecte d'intérieur junior (si nécessaire)
la gestion des prestataires extérieurs participants au projet
l'assistance au DCE et le suivi qualitatif de chantier en relation avec
l'architecte de réalisation
Connaissances/aptitudes:
expérience concrète des différents phases d'un projet (hôtels, restaurants, particuliers, retail..). – Bonne compréhension et assimilation du langage du studio
très bonne maîtrise des logiciels Photoshop, Illustrator et AutoCAD (Rhino apprécié)
facilité en l'Anglais (et du Français)
Profil:
Bac+5, diplômé d'une école d'Architecture intérieure ou d'architecture
architecte d'intérieur ou architecte confirmé
minimum 3/4 ans d'expérience Dont minimum 2 en agence
Qualités requises:
créatif
sens du travail en équipe
autonome, réactif, force de proposition et d'anticipation
méthodique et sens du détail, organisé et fiable
capacité à gérer plusieurs projets en même temps et à manager un ou des architectes d'intérieur juniors.
Merci d'adresser votre candidature sous référence AC (CV + Lettre de motivation + Book en format pdf < 6 Mo montrant des détails, rendus images 3D, plans et 3 à 5 exemples de réalisations) à l'adresse suivante
Studio  Briand Berthereau
223 rue La fayette – 75010 Paris
Tél : + 33 (0)1 77 17 27 36
————————————
Type of contract: CDD six months
Location: Paris (10e, Louis Blanc station)
Salary: depending on experience
Available from: January
Job description
Projet manager architecture/interior architecture
Main responsibilities
You will be in charge of a specific project (tertiary orientated) created by the Studio Briand Berthereau.
You should be able to:
create and modify the entire project documents (plans, drawings, presentations)
participate to the production and development the design concept
research, source and recommend materials, furniture, lighting of the project
manage budget and planning to always stay on track
do the global follow up
build up the presentation files for every step of the project
liaise and supervise external contractors and architects
participate to internal and external meetings
elaborate the reports concerning the project evolution
work in collaboration with the team of the studio (graphic designer, product designer, manager) and supervise a junior architect if necessary
deal with external service providers
assist on the worksite supervision and follow up the construction along with architects
Skills/knowledge:
experience with every steps of a project (hospitality, residential, commercial or retail)
good understanding of the studio language
excellent knowledge of Photoshop, Illustrator and AutoCAD (Rhino appreciated)
fluent in French
Profile:
master degree in interior design, or architecture
architect with three/four years of experience, minimum two in a design firm
Essential qualities:
creativity
ability to work within a team
ability to consistently meet deadlines and be a resourceful problem solver
strong time management skills and experience managing multiple projects simultaneously, including dealing with juniors
Please send your resume and portfolio with you reference in the email title. We would like to see details of your work, 3D renders, drawings and plans. You can present three to five projects. Please make it less than six MB, and submit it using the 'apply' link below.
Studio Briand Berthereau
223 rue La fayette – 75010 Paris
Tél : + 33 (0)1 77 17 27 36
Applications have closed.