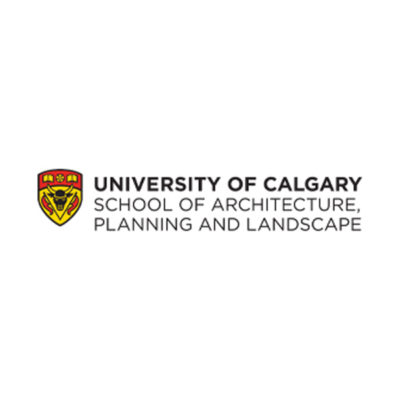 University of Calgary has an opportunity for assistant professors to join its School of Architecture, Planning and Landscape team in Calgary, Canada.
The School of Architecture, Planning and Landscape (SAPL) at the University of Calgary invites applications for eleven tenure track position in architecture, planning and landscape architecture at the rank of assistant professor. Depending on qualifications and career track expectations, the appointment will be made in either the teaching and research stream or teaching focused stream.
In addition to offering first professional Master of Architecture, Master of Planning, and Master of Landscape Architecture degrees and research-focused degrees at the master's and doctoral levels, SAPL is entering an exciting new period of growth with the launch of a first-of-its-kind interdisciplinary Bachelor of Design in City Innovation (BDCI) and an expanded focus on community-engaged teaching and research through our downtown City Building Design Lab. Successful candidates will be assigned teaching duties in the BDCI program and their relevant graduate professional program and.
We are searching for faculty with a passion and potential to reshape design education to better address the pressing challenges facing the built environment and who want to be part of a strong and vibrant community that respects and values diversity and differences. A commitment to climate action, social justice, community impact and value informed innovation inform our approach to teaching, research and outreach and we are looking for individuals with similar values who are interested in taking their career, and our school, to the next level. The anticipated start date is July 2023, or a mutually agreed upon date.
One of the positions is part of the University of Calgary's Inclusive Excellence Cluster Hiring Initiative and is directed at Indigenous scholars or practitioners in the field of architecture, planning or landscape architecture. Five of the remaining positions are for the architecture program, two for the planning program, and two for the landscape architecture program. These all have a primary focus in Design Studio and a secondary focus in one of the following fields:
Architecture specialisations (in addition to Design Studio):
design theory, history, thinking, philosophy, policy, urbanism
human-centred design, designing for equity, diversity and inclusion, design justice
representation and computation – including the use of AI and data science
sustainable and regenerative design, structural and mechanical systems, circularity and construction
emerging materials, multi-scalar design, innovation in fabrication
critical professional practice
Planning specialisations (in addition to Design Studio):
spatial planning and analysis
regional planning
urban systems
urban design
indigenous and cross-cultural planning
community planning
land development
Landscape architecture specialisations (in addition to Design Studio):
landscape ecology and ecological restoration
climate change adaptation
Low Impact Development (LID)
urban design
Additional information and detailed job descriptions for all positions can be found here.
About the School of Architecture, Planning and Landscape
Our location inspires and motivates us. We acknowledge and pay tribute to the traditional territories of the peoples of Treaty 7, which include the Blackfoot Confederacy (comprised of the Siksika, the Piikani, and the Kainai First Nations) as well as the Tsuut'ina First Nation, and the Stoney Nakoda (including Chiniki, Bearspaw, and Wesley First Nations). SAPL also recognizes that the City of Calgary is also home to Region III of the Métis Nation of Alberta. By virtue of the signing of Treaty 7 in 1877, the university recognises that we are all treaty people. The City of Calgary is home to diverse communities. Together, we share this land, strive to live together, learn together, walk together and grow together "in a good way."
Calgary is ranked the fourth most livable city in the world by the Economist's 2018 "Global Livability Index" and is the gateway to the spectacular Rocky Mountains. Architectural landmarks such as the Peace Bridge, the Bow Tower, the National Music Centre at Studio Bell, the Central Library, and TELUS Sky, complement one of the most extensive urban cycling networks and natural park systems in Canada. Calgary is also Canada's most enterprising city where entrepreneurs, experimenters, and rule breakers are not afraid to experiment with built form, innovative policies, and new concepts. Calgary is a city of extraordinary community spirit; we come together and innovate for positive, integrated systemic improvement.
At the same time, Calgary has a long history of car-oriented development of large single-family suburbs and a commercially focused downtown. With the current shift from an oil-based economy to one focused on clean-tech, digital enterprise, and innovation that requires competing in a global talent market, the city and its development industry is actively re-imagining the short-, medium-, and long-term future of the built environment towards sustainability, resiliency, equity, and vibrancy.
With the city as a living lab, SAPL is an active partner in this innovation endeavor, engaging our students in real-world studio related projects and our faculty in community-focused research and critical practice. Through our downtown location, the City Building Design Lab has become a hub for collaborative research and public discussion about city building. In 2018, the CBDLab hosted 115 city building events that brought over 7,000 participants into the school for exhibitions and lectures.
This is an exciting time to join the School of Architecture, Planning and Landscape. The launch of the Bachelor of Design in City Innovation will add 800 undergrad students to our 400 graduate students enrolled in our Master of Architecture, Master of Planning, and Master of Landscape Architecture course-based degrees and our three research degrees: Master of Environmental Design, PhD in Environmental Design and a Doctor of Design, specifically focused on helping established practitioners develop innovative new forms of practice.
About the University of Calgary
The University of Calgary (UCalgary) is a global and innovative intellectual hub for teaching and learning, research and scholarship, and community engagement. UCalgary ranks fifth among Canada's top research universities in Research Infosource Inc.'s latest Top 50 Research Universities list released on Jan. 25, 2022. UCalgary is the youngest university to have reached the top five.
UCalgary has more than 6,500 graduate students and 28,500 undergraduate students, more than 1,800 academic staff (continuing, contingent term or limited term appointment), more than 1,300 sessionals, and more than 3,200 non-academic staff, in 14 Faculties, across five campuses. The vibrant and research-intensive environment at UCalgary is home to 146 research chairs (75 Canada Research Chairs), and more than 50 research institutes and centres. UCalgary has the fastest growth rate in attracting research funding among the 10 largest universities in Canada.
The University of Calgary has launched an institution-wide Indigenous Strategy, ii' taa'poh'to'p, in line with the foundational goals of Eyes High, committing to creating a rich, vibrant, and culturally competent campus that welcomes and supports Indigenous Peoples, encourages Indigenous community partnerships, is inclusive of Indigenous perspectives in all that we do.
As an equitable and inclusive employer, the University of Calgary recognizes that a diverse staff/faculty benefits and enriches the work, learning and research experiences of the entire campus and greater community. We are committed to removing barriers that have been historically encountered by some people in our society. We strive to recruit individuals who will further enhance our diversity and will support their academic and professional success while they are here. To ensure a fair and equitable assessment, we offer accommodation at any stage during the recruitment process to applicants with disabilities. Requests for accommodations can be sent to human resources ([email protected]). Questions regarding indigenous engagement at UCalgary can be sent to the office of indigenous engagement ([email protected]). Questions regarding [diversity] EDI at UCalgary can be sent to the office of equity, diversity and inclusion ([email protected]).
All qualified candidates are encouraged to apply; however Canadians and permanent residents will be given priority. In this connection, at the time of your application, please answer the following question: are you a Canadian citizen or a permanent resident of Canada? (yes/no)
The University of Calgary strongly recommends all faculty and staff are fully vaccinated against COVID-19.
Click here to apply through our careers site.
Applications have closed.