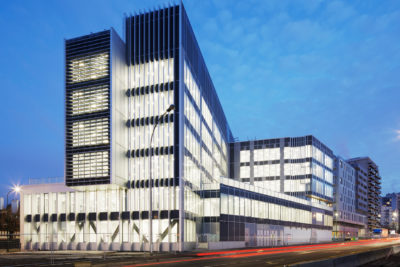 Jean-Paul Viguier et Associés is looking for a German-speaking collaborator to join its team in Paris.
Collaborateur Germanophone
L'ENTREPRISE
VIGUIER est une agence internationale d'architecture et d'urbanisme. Plurielle et innovante, elle conçoit et réalise des projets selon une démarche globale et intégrée qui va du plan d'urbanisme au paysage, en passant par l'aménagement intérieur, pour les usages publics et privés de bureaux, de logements, d'équipements et de commerces. Aujourd'hui, l'agence compte 130 personnes de 17 nationalités différentes, encadrées par un collectif constitué d'un architecte fondateur et 12 associés.
DESCRIPTIF DU POSTE
Au sein de notre agence basée à Paris, vous intégrez une équipe pluridisciplinaire. Sous la responsabilité d'un Directeur de projet, vous serez amené.e à travailler sur un concours pour un projet à Berlin.
PROFIL RECHERCHÉ
De formation architecte, vous maîtrisez impérativement AutoCAD et ou Revit et justifiez d'une expérience en agence sur ces logiciels.
De nature autonome, vous faites preuve d'esprit d'équipe et de méthode.
Le poste est à pourvoir immédiatement.
Rémunération selon profil
Mission de 6 mois avec prolongation possible – 35h – Chèques Restaurant.
Merci d'adresser votre CV et portfolio à rh@viguier.com.
Applications have closed.