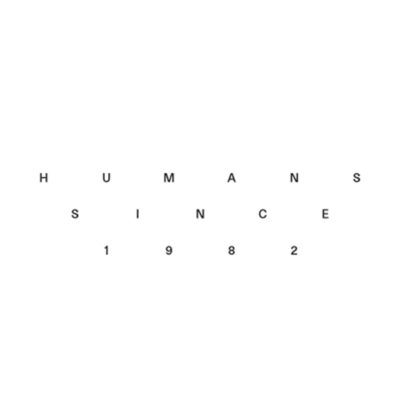 Humans since 1982 is looking for a passionate sales representative to join its artist studio in Stockholm, Sweden.
About Humans since 1982
Humans since 1982 is an artist studio established in 2009 that operates at the intersection of contemporary art, design and technology. The growing interdisciplinary team of 11 comprises international specialists with expertise in design, programming, curation and engineering who collaborate to take Humans since 1982 artistic projects from concept to realisation.
Based in Stockholm, Humans since 1982 are exhibited worldwide at leading galleries, fairs and institutions including Saatchi Gallery, Art Wuzhen, Somerset House, Art Miami and Cooper-Hewitt. Their 2018 commission 'A Million Times' for Changi Airport, Singapore, is one of the largest kinetic sculptures in the world. Humans since 1982's artworks are featured in public and private collections of some of the world's most influential art collectors. In 2020 Humans since 1982 activities will include a major solo exhibition in Korea, the launch of a new site-specific public commission in California alongside group exhibitions and the launch of new artistic projects.
In 2016 Humans since 1982 launched the ClockClock brand through a limited edition artwork 'ClockClock 24' with MoMA Design Store New York. This new piece, currently available in four variations, was introduced as an entry-level Humans since 1982 artwork – a smaller piece made more affordable by being available in larger editions. This project has opened up new markets for the studio and is currently available directly from the studio as well as through a carefully selected number of retailers internationally. Current retailers comprise collectable design stores, high-end watch retail, luxury goods and kinetic artwork stores.
For more information about the artist studio Humans since 1982 and the ClockClock brand, please see our website and Instagram account.
Job description
We are seeking a savvy and passionate candidate to lead and develop the ClockClock aspect of the Humans since 1982 business in the international contemporary art, design and luxury market. We seek a trustworthy and reliable individual with a strong business mind while also having an understanding and enthusiasm for the creative processes that direct an artist studio.
We are in search of a full-time sales representative with experience in retail and sales to work closely with the artist founders, chief operating officer (COO) and business development manager (running business development in general and sales for the studio's other artworks). This role reports to the COO.
This is a central role in a small but ambitious team and this role will be responsible for developing new business opportunities for the ClockClock brand, in line with the company's overall business plan and studio values. This role requires both a high level of internal coordination and communication with the rest of the Humans since 1982 team, responsibility for B2B relations with high-end retailers worldwide, as well as B2C relationships with direct clients, comprising some of the world's most influential collectors of art, design, technology and timepieces.
Key responsibilities:
plan for the ClockClock brand's long term success in a changing business environment
retain and grow sales avenues of the ClockClock 24 product range through retailers and agents internationally, as well as for any other future artworks under the ClockClock brand
take the lead on the ClockClock brand's development, maintaining tight coordination with other team members that lead to the ClockClock artwork's design and production, as well as close coordination with the business development manager
Main duties and responsibilities:
project manage and hold ownership of the ClockClock brand and its product range
develop and execute strategies to grow international knowledge of the ClockClock brand and admiration among the international art and design community and beyond
responsible for opening new sales opportunities for ClockClock internationally by building strong sales channels in existing and new markets through new retailers and agents/distributors that are in line with ClockClock values
gain insight/understanding of the contemporary art, collectable design and luxury goods market's mechanisms and develop/ follow a method to use these mechanisms in favour of ClockClock and the studio
identify and drive design updates within the ClockClock brand such as product, website, marketing material as well as being in charge of the ClockClock calendar, timeframes and deadlines
lead on new releases, including the planning of the release of new products under the ClockClock brand.
negotiating and managing relationships directly with current and potential retailers which could include art and design galleries, dealers, retailers, clients and institutions based on the studio values and directives
responsibility for ensuring all sales channels that represent and present the ClockClock artworks do so as per ClockClock brand values and quality standards by doing online clinics/ staff training with all sales representatives, i.e. retailers and agents/distributors
responsible for end client sales and relations for any direct sales e.g. via the ClockClock website
responsible for all ClockClock marketing tools and activities
responsible for developing and using tools for tracking and evaluation of sales performance (both direct and via retailers/agents), and reporting this sales performance to COO
manage databases for existing and new sales collaborations
General responsibilities:
collect, reply to and analyse potential retailer/agent/ distributor enquiries
negotiate and complete partnership agreements/ contract/ shares
lead retailer, agent, distributor relationships including collecting data and feedback for evaluation
responsible for maintaining and developing the ClockClock website
review and update ClockClock marketing materials and tools
create and deliver training material for retailers, agents etc
manage ClockClock artwork consignments
work closely with ClockClock's support team to ensure clients continued happiness with their artwork and the studio
actively research and seek out new partnerships for ClockClock sales avenues
as the studio maintains ClockClock sales collaborations internationally in multiple time zones, this role may require some work outside of core office hours as appropriate and reasonable, as well as potential for some international travel to accommodate delivery of the role's responsibilities
other duties as reasonably required
Knowledge and experience
Essential knowledge and experience:
bachelor in economy/business/sales and experience from sales and client relations during or after studies in any of the following industries: luxury goods, fashion, design or arts. And/or several years experience in sales with client relations in any of the following industries: luxury goods, fashion, design or arts
in-depth knowledge of the needs and requirements of retailers and agents working with luxury products
good understanding of the requirements for establishing new partnerships with retailers and agents
good level of interest and knowledge of arts, design, luxury goods and/or culture
Other meriting knowledge and experience:
entrepreneurial background, and/or experience working in a changing environment in a small fast-growing company
understanding and experience of direct client relationship management and partnership building
experience of direct clients sales by email, phone, website or in person
experience of originating and delivering complementary material to support retailers, such as catalogues and clinics/ staff training
Skills
Essential skills:
self-starter and go-getter with a make-it-happen attitude, confident to make decisions and create new opportunities
excellent English communication skills, both written and oral
drive for sales success with an understanding of the business mechanisms in the luxury industry globally, and it's opportunities and challenges
trustworthy and reliable
business mind, negotiation skills, presentation skills, social skills, networking skills and analytical skills
openness and adaptability to a dynamic 'start-up style' office culture
fast-learner
ability and initiative to identify required actions and effectively act upon them
an understanding and enthusiasm for the creative processes that direct the artist studio
good interpersonal skills. Able to initiate and establish effective partnerships and professional relationships with a wide variety of people and businesses with an awareness of cultural differences internationally
good time management and organisational skills with the ability to work well under deadlines and without supervision
appropriate and effective use of a wide range of communication techniques and virtual platforms used within the company
Other meriting skills:
project management skills
ability to create, drive and execute a business plan
literate in online and digital technology with good knowledge of social media, and website management to enhance brand awareness and effective communication
willingness for co-learning and knowledge sharing
Summary of terms:
full-time employment
place of work: Stockholm, Sweden, but could also require occasional travelling
company language: English
term of employment: probation period for six months, developing into a permanent employment, unless notice is given by any party during the six-month probation period
salary: TBA in person
To submit your application, please click the 'apply' button below.
Applications have closed.