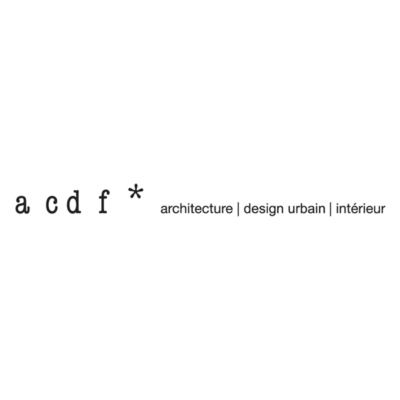 ACDF Architecture is searching for an architect to join its team in Montreal, Canada. 
Montreal-based and globally focused,  ACDF is one of Canada's most energetic and exuberant young architecture firms. Over the past nine years, the studio has enjoyed a bold ascent and continues to complete even-more ambitious, design-savvy projects at every scale, including commercial, residential, hospitality, interiors and master planning projects. Under the direction of Maxime-Alexis Frappier, Joan Renaud and Etienne Laplante Courchesne the studio's work is timeless and highly tailored, with trim lines and intelligent planning. Clever touches add levity – such as anamorphic patterns or unusual juxtapositions of materials that instill a sense of spirit.
The studio engages each client with a high-degree of care, building a strong relationship based on open communication and respect. ACDF respects time line and budgetary constraints while creating custom spaces that reflect the client's brand, from the overall concept down to the smallest details.
ACDF Architecture is known for their design approach, which places the user at the centre of their work, while maintaining a rigour that permits the successful realisation of complex projects within rigid constraints. Their architecture is developed as a narrative that sensitively responds to the existing context, the project program, the client's needs, and the given budget. Every project is founded on a unique clear language that fosters bold and lively designs, in which architecture generates prosperity on the social, economic, and cultural scales.
The quality of ACDF's projects has been repeatedly acknowledged by the appointment of 30 awards and accolades, including the appointment of the 2010 Canadian Governor General's Award and, more recently, the prestigious award and title of Architect of the Year in Canada (40 years and under) awarded by the Royal Architectural Institute of Canada. Their work has also been published in more than 50 magazines world-wide.
You wish to work with a team composed of 70 experienced and passionate professionals ? ACDF, an architecture firm, recipient of several architectural awards, is offering you the opportunity to join its team as a project manager.
The offered position is full-time and located in our Montreal offices, in the heart of the Mile-End district.
Junior/intermediate/senior architect requirements:
bachelor's degree in architecture
knowledgeable of AutoCAD, Microsoft Office software, Revit, 3D Studio and Adobe software
LEED accreditation (an asset)
bilingual (an asset)
Applications have closed.