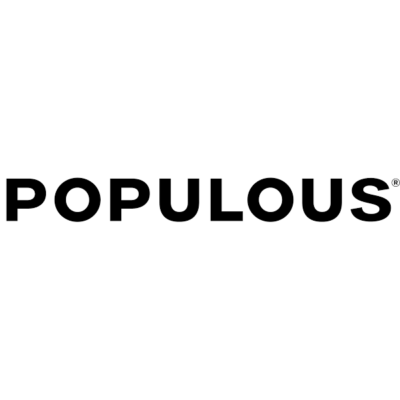 POPULOUS is looking for an interior designer to join its firm in Kansas City, USA. 
POPULOUS is a global architecture and design firm that creates the places where people love to be together, like Yankee Stadium, the London Olympics, and the Super Bowl. Over the last 30 years, the firm has designed more than 2,500 projects worth $40 billion across emerging and established markets. Populous' comprehensive services include architecture, interior design, event planning and overlay, environmental graphics and wayfinding, master planning, landscape design, urban planning and sustainable design consulting. With regional headquarters in Kansas City, London, and Brisbane, Populous has 17 offices on four continents.
AT POPULOUS we design the places where people love to be together. We do that by mixing expert guides with fresh thinking – developing the best people who are in pursuit of designing the most innovative projects.  Creativity is the lifeblood of Populous. We relentlessly pursue the excellence of ideas and design.
Interior design isn't just about functional, beautiful finishes and furniture. It's about creating an experience and an environment that our customers will love and remember long after they leave. We've done this time and time again in some of the world's most recognisable spaces. Whether it is a restaurant, a premium sports venue club, a hotel, a convention center or a retail space – we look at the project from the inside out and put human experience at the forefront of our design thinking. All spaces should be activated with moments of engagement through a dynamic blend of storytelling, branding, interior design, future thinking, technology, innovation and creativity.
POPULOUS is the world's leading design firm dedicated exclusively to creating environments that draw people and communities together for unforgettable experiences.
We are currently looking to expand and enhance our design team with like-minded individuals strong in research, insights, design and communication.
Key abilities:
ability to work within a dynamic, creative environment, providing design and documentation in all aspects of the interiors process, in a variety of media formats
creative design thinking, spatial and environmental design ability, branding development, story creation, and graphic design sensibility are required
possess strong conceptual design, organizational, presentation, and technical expertise
ownership of multiple concurrent projects, resilience to switch gears quickly in a fast-paced environment
confidence and comfort interacting with clients, participating and leading presentations, meetings and collaborative sessions
ability to quickly earn trust, build partnerships, and direct large consultant teams
the ability to manage multiple projects with minimal supervision
the ability to give and take direction
Skills/experience:
7-10 years of relevant experience
deep passion for design
hospitality experience is preferred
superior visual, written and spoken communication skills to express concepts in ways that are captivating
detail oriented and comfortable working in a demanding environment
proficiency in Revit, Photoshop, Illustrator and InDesign
rendering experience, computer and freehand
strong sketching and freehand drawings skills. Ability to create quick sketches to convey/sell an idea is critical
POPULOUS offers a competitive salary, bonus and benefit packages, including medical, dental and vision coverage, 401k, flexible spending accounts, paid time off and continuing education benefits. POPULOUS is an equal opportunity employer. All qualified applicants will receive consideration for employment without regard to race, religion, color, national origin, sex, age, genetic information, sexual orientation, status as a protected veteran or status as a qualified individual with a disability, or any other characteristic protected by applicable Federal, State or Local law.
Please apply via our careers page.
Applications have closed.