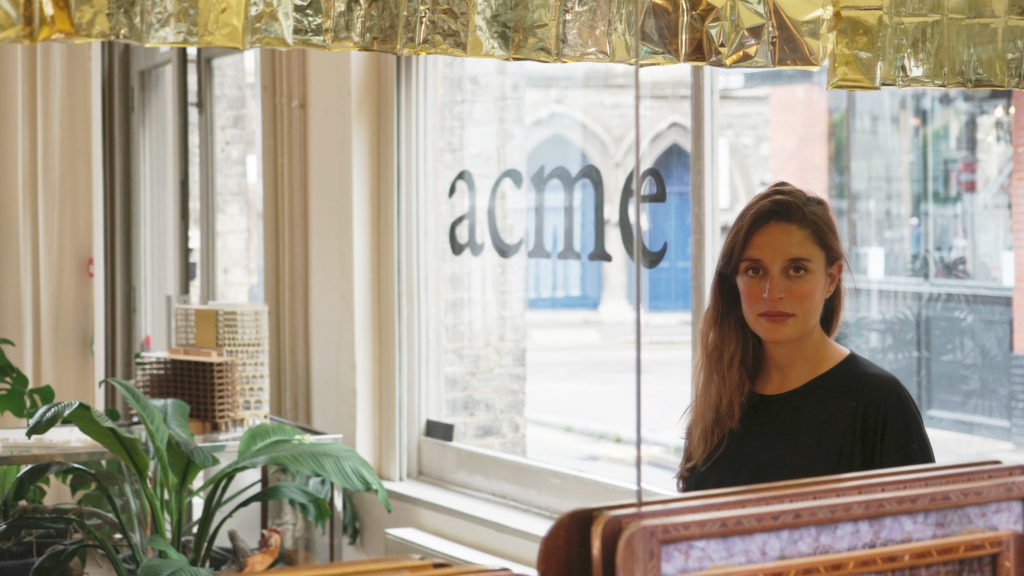 "It takes time to develop an idea but it always pays off" says Eleni Meladaki of ACME
How I got my job: Eleni Meladaki is an associate architect at London studio ACME. She explains her career progression and the difference between practising architecture in Greece and the UK for the Dezeen Jobs careers guide.
---
Name: Eleni Meladaki
Job title: Associate architect
Company: ACME
Location: London
Dezeen Jobs: When did you first realise you wanted to work in architecture and design?
Eleni Meladaki: I have to admit that it was not a childhood dream – I drew terribly and still cannot sketch well, but I started realising the potential of design during my late teens, by observing simple things around me, like a logo on a t-shirt.
During my early years in university, I developed a strong desire to shape spaces and explore materials. Now, as a professional, I am enjoying the collaborative way of working within a design practice.
I would say it has been a long-term process that made me realise that I want to be involved in a design-led profession.
Dezeen Jobs: Where and what did you study?
Eleni Meladaki: I studied at the National Technical University of Athens (NTUA), where I received my bachelor and masters in architecture and engineering.
In 2011, I moved to London and attended the Architectural Association where I received my MSc with Distinction from the Emergent Technologies and Design unit.
Dezeen Jobs: Talk us through your professional background. What led you to ACME?
Eleni Meladaki: As a registered architect in Greece, I worked for a period of four years in different Athens-based practices, being involved in high-end residential and commercial schemes, as well as numerous competitions.
Since my re-location, I worked in London for two small firms on high-end residential and cultural schemes, which made me realise that I would like to try a medium-sized practice, where I would have the opportunity to grow and be part of a bigger team and involved on ambitious projects.
Back then, ACME's in-house publication drew my attention, as well as the positive comments about this design-led studio. I decided to apply and in 2013 I joined the studio.
Dezeen Jobs: Explain your current role and what it involves.
Eleni Meladaki: I am currently an associate at ACME and my role involves different tasks, from running projects of various scales and at different phases, to preparing bids for new businesses and reviewing the practice's standards.
I'm also involved with the HR team, which means preparing and monitoring the resource distribution between projects.
Apart from my daily tasks, I am a member of the management team which involves regular meetings to discuss practice-wide matters, like development opportunities and project agendas.
Over the last year, I have been mainly involved in the Canopy by Hilton hotel in the City of London - currently under construction.
At the same time, we have submitted a planning application for an office scheme in Aldgate and prepared feasibility studies for a masterplan in Toulouse, a residential scheme in Dubai and a cultural competition in Australia.
Managing multiple projects at the same time can be challenging, therefore my main task is to ensure that the various teams work as efficiently as possible, while being able to come up with and develop new design ideas and meet deadlines.
Dezeen Jobs: Describe your career progression at ACME.
Eleni Meladaki: I was hired at ACME as an architect, and since my first project I was given the opportunity to become a project architect, starting with a small team of three that grew to 12 over time.
Since the beginning, I have been leading projects of various scales and typologies. In 2018, a couple of months after I came back from my first maternity leave, I became an associate.
Despite my title or my role, as a studio we have a relatively flat hierarchy, which means that I am still hands-on when it comes to daily tasks and design, regardless of seniority.
Dezeen Jobs: What do you enjoy most about your job?
Eleni Meladaki: I would say the most enjoyable part of my job is collaborating with people from various disciplines and with different backgrounds, as it helps me grow and understand aspects of my work that I had not considered before.
At the same time, travelling for work is a very rewarding aspect for me, since I get the opportunity to visit new places and get inspired.
Dezeen Jobs: Tell us about some of the most interesting projects you've worked on – at ACME or before.
Eleni Meladaki: My first project at ACME, Robina Town Center, was one of the most interesting ones. I landed a big project, with an international team of consultants located in Australia, which allowed me to travel a lot and be part of an exciting project from concept to completion.
My latest project, The Canopy by Hilton hotel in London, has been one of the most challenging ones. It is currently under construction and it combines both refurbishment and new-build elements, as well as fit-out.
Dezeen Jobs: How has working in London differed from working in Greece? Is there a different approach or work ethic in either location?
Eleni Meladaki: The main difference between London and Athens is the scale.
London allows practices to experiment with design and push boundaries, as they have the available resources to do so, given that projects in many instances are of larger scale and with bigger budgets.
Dezeen Jobs: What has been your career highlight so far?
Eleni Meladaki: Moving to London. It has changed the way I practise and think about architecture.
Dezeen Jobs: What are the biggest challenges you've had to overcome in your career or on a day-to-day basis?
Eleni Meladaki: I feel the biggest challenge in my career is working with people.
Managing client expectations, working closely with a variety of consultants and being a project leader, all require a lot of fine-tuning that has an immediate impact on the outcome.
Dezeen Jobs: What do you consider to be the most important skills you've gained during your career?
Eleni Meladaki: I would say patience is the first skill. I had to build it up beyond what I thought was necessary. It takes time to develop an idea, convince a client or teach a junior colleague, but it always pays off.
Moving forward, I realised the importance of continuously learning and observing new things, which helped me become a stronger designer and remain hands-on with my teams.
Dezeen Jobs: What are the most important qualities ACME looks for in prospective employees?
Eleni Meladaki: At ACME we are looking for people who spark joy. We are interested in people with different backgrounds who are curious, hard working, have an eye for detail and are, of course, fun.
I cannot think of a specific recipe we are after, beyond the obvious software skillset. It is all about the personality a candidate has to showcase. This will be an asset for our studio.
Dezeen Jobs: What advice do you have for individuals looking to pursue a similar career path?
Eleni Meladaki: Build your confidence one step at a time. It takes time and hard work to conquer a good skillset, which will allow you to be a good architect throughout the entire process – from the idea up until execution.
---
ACME: view company profile
Locations: London
Number of employees: 50-100
Website: www.acme.ac