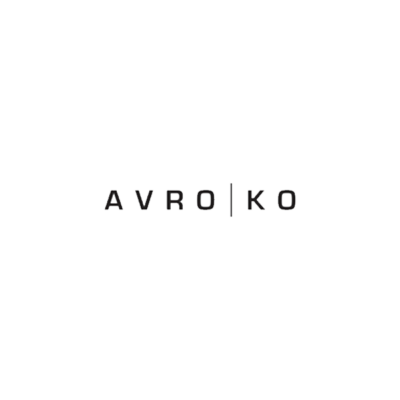 AvroKO is looking for a design director to join its team in London.
The design director is a creative lead who can wield hospitality design strategy while exhibiting the ability to translate design ideas into creative business-building solutions for our clients. The director shall be as comfortable consulting with business leaders as with design counterparts.
The design director shall have the ability to lead a multi-disciplinary team to develop immersive environments for a diverse range of domestic and international clients. This seasoned leader will merge strategy, interior design, furniture and lighting design, architecture and graphic design to develop world-class hospitality environments while challenging, mentoring and inspiring a diverse team of designers.
The director shall demonstrate abilities in persuasive presentation skills, environmental design strategy, conceptual ideation, rendering and presentation skills, technical proficiency.
The design director must understand the range of work of the firm and design philosophy and approach leading the studio in project design. They must be able to add some innovative and fresh design experience to the studio mix, add tone and deep artistic design guidance to the team.
Responsibilities
Strategic:
work with senior management and marketing to fit interior design strategy to organisational vision
manage and oversee upgrades and changes in design strategy
continue to strengthen the breadth, creativity and work of the interiors practice, supporting interior design leads through the provision of sound creative oversight at both the project and studio-wide levels
develop strong business relationships with clients and outside partners
provide design direction, and work with the principals to create designs that meet AvroKO standards
act as a mentor of the interiors department, offering leadership, clear guidance and feedback on a regular basis to ensure high design quality
works directly with marketing and management to develop major business initiatives
writing proposals and creating fee estimates
Industry:
maintains a strong presence in professional organisations
marketing coordination and representation of the AvroKO
Project-specific:
determines standards for project design methodology
maintains involvement and ensures quality control in all phases of interior architectural projects and their design. Evaluates the progress on projects and vetting project design goals
quality control of designs and presentations prepared by staff
may serve as a primary contact with clients, consultants and public agencies
liaison between the principals and the rest of the designers in the office on all design projects that you oversee
making important decisions regarding project design based on interior design knowledge and requirements
participate in the review of submissions and recommend changes before completion
actively participate in budgeting and scheduling design tasks
Leadership qualities:
strong interpersonal skills to convey design ideas to client and vendors
supportive team leadership and engendering a positive, enthusiastic and constructive process
able to bring out the best in the design team, and allow them to design towards clear goals
train staff in presentation techniques and detail studies including 3D sketch and modelling techniques
work closely with director of operations and project managers to monitor contract performance, from initial statement-of-work through completion
ability to lead internal design review and provide constructive feedback to teams
organized individuals that pay close attention to detail and work effectively in a fast-paced environment
have an advanced understanding and knowledge of design and construction techniques as it relates to interior design
Required skills and experiences:
over 14 years of hospitality design experience with significant experience in restaurants and hotels
minimum of three-four years of experience in a senior management/leadership role
demonstrated strategic approach to design
experience leading multi-disciplinary design teams
excellent written and verbal communication skills
excellent teamwork skills
excellent organisational skills with a strong attention to detail
experience with common industry software applications such as Microsoft Office and Adobe Creative Suite. Further presentation and documentation applications such as 3D modelling applications, BIM applications, 2D drafting applications and specification writing software a plus
experience building, nurturing and fostering client relationships
persuasive presentation skills
ability to work collaboratively with design directors and creative managing directors across the firm
strong writing skills (narratives, strategy, meeting minutes, proposals, etc.)
ability to read and interface with the firm's primary accounting reports
minimum bachelors degree in interior design. Masters degree a plus
If this sounds like you, please apply using this link. Only applicants who apply via this link will be considered.
Applications have closed.