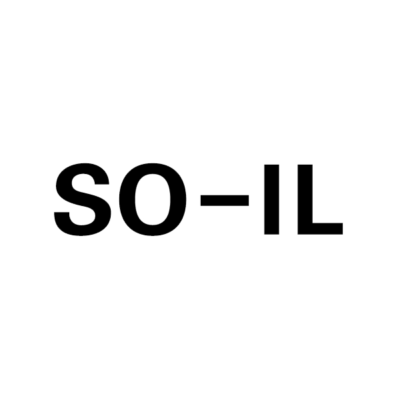 SO-IL has an opportunity for an associate to join its team in New York.
SO – IL is an internationally recognized architecture and design firm based in New York. We are seeking motivated designers with at least four to six years of experience. The ideal candidate will have experience working in the capacity of project manager for internal teams, as well as leading the coordination with external consultants.
You will be working as a project leader and be expected to create new ideas both in collaboration and independently within an international design-driven studio. Associates are considered part of the core staff team and our hope is to develop a long term relationship. This requires lasting commitment from both sides to grow together as part of our team.
Associate position description:
lead the production and development of all necessary documents, drawings, models, images, schemes etc related to the design and building process
lead project teams, acting as the primary point-person for daily oversight of design and technical development of one or more projects concurrently
develop architectural studies
prepare and present design proposals to clients and vendors
liaise with consultants, vendors, etc. to assess design solutions and guarantee integrity of the final design
act in a professional and responsible manner as a representative of our firm with clients, consultants and staff
be collaborative and supportive to peers and interns
act as point-person for schedule and budget management on a project
Prerequisites:
four to six plus years' of experience in a leading architectural design office
proven ability to act as project leader from conception to completion
maintain the ability to work flexibly in a demanding environment
strong communication skills, with regard to client correspondence, presentations, meeting organization and preparation
demonstrated proficiency in leading a consultant team
physical modeling skills required, including digital fabrication, wood, metal and foam
ability to work and plan both independently and seamlessly within a collaborative design team
proficiency required in: Rhino, Autocad, Adobe Creative Suite
proficiency preferred: Grasshopper, Revit, Vray
construction administration experience is a plus
demonstrated experience with junior team development is also a plus
ability to manage and deliver projects in the schematic design, design development and construction document phases
competition project management experience a plus
professional degree in architecture
To apply:
To be considered for the position please include the following documents:
CV/resume
portfolio
three professional references
In the body of the form please answer (no more than 150 words each):
why are you the right fit for SO–IL? Be specific
give an example of when you've had to manage a project or process, describe your biggest challenge and how you overcame it
describe your most difficult client experience and how you were able to manage expectations and maintain a positive working relationship
what is your potential start date?
whether you will now or in the future require visa sponsorship for employment at SO – IL
if you are licensed please indicate where.
if an international applicant, what is your visa status
expected salary range
Submit all of the above via the apply for job button below with 'YOUR NAME_ASSOCIATE' as subject.
Unfortunately due to the volume of applications we are not able to reach out to every inquiry. We will follow-up with qualified candidates via email to schedule interviews. Please no phone calls or unscheduled office visits.
Equal employment opportunity statement
We maintain a work environment that is free of harassment, discrimination, or retaliation because of age, race, color, national origin, religion, sexuality, gender, or any other status protected by federal, state, or local laws. SO–IL is dedicated to the fulfilment of this policy in regard to all aspects of employment.
Applications have closed.